Peaceful Gathering To Save Spike Island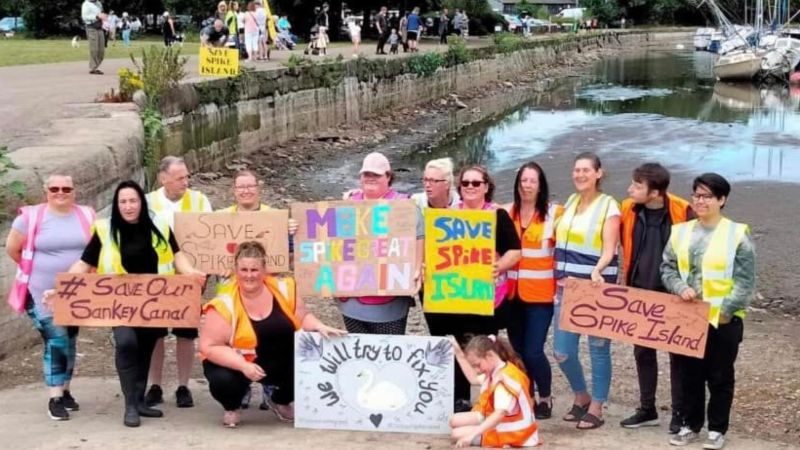 09/07/2022 19:53 in News
We recently did a small documentary that we aired on Congleton Radio to show the plight of the Spike Island swans that were living in what was once a great place for them on the canal there. Sadly due to the Fiddlers Ferry closing, the last pump that fed water to the canal has now been turned off.
The swans at Spike island were left with less than 2 foot of water and their lives were being endangered due to discarded fishing lines and hooks plus other items that had found there way into the canal. There were old prams in there and other junk which was potentially a huge hazard to these beautiful creatures. Plus the risk of botulism was imminent due to the condition the canal is now in.
Thankfully for the swans there has been a group of volunteers who took action into their own hands to protect these magnificent creatures and they banded together to perform a relocation of the swans to a more suitable location.
The people that relocated the swans did this out of concern and love for the swans as they did not want the swans to end up dead due to the bleak conditions they were living in.
They are upset though that is has had to come to this as they do not want to lose their beautiful swans from the area that was once a haven for them. The people who live in that area love the swans and it is good for peoples mental health and wellbeing to be able to go and enjoy their splendour. Sadly though now they will not be able to do this.
There will be a peaceful gathering at Spike Island tomorrow the 9th July to show to the powers that be that something needs to be done about the situation there. This is not a protest but rather a silent gathering of people.
We spoke to Jay Scott who is involved in the plight of the Sankey canal and she gave us this information. Please see Jay's statement about this and how to get involved below:
"A peaceful gathering on Saturday 9th July @ 12pm ...Spike Island, Upper Mersey Road, Cheshire, Wa8 0DG
Accessible via both Gateway Bridges via the 1st exits (don't forget the tolls) and also m62 onto Watkins Way and follow the signs for the catalyst museum or M57/ Speke Road and take the Widnes town centre slip road ..Then follow signs for the catalyst museum /spike island
We are holding a peaceful gathering to show how we care for current and future conditions of spike island /Sankey canal.
Sadly it has hit a decline and the waters are no longer ..Since fiddlers ferry closed we have not had a water source to keep the canal filled and now sadly with the disrepair of the lock gates at spike island the water has leaked away into the river Mersey causing many many problems with the ecosystem and wildlife at spike.
Recently a group of volunteers have taken on the task of moving the gathered swans from spike island onto 'waters new' at Winsford Marina this was to keep the birds whom now are all in moult safe and healthy due to rapid decline in waters and condition of spike island .They sadly cannot do this themselves due to moulting.
A majority of the fish have also been rescued and taken onto new waters to be given a chance of survival.
Volunteers have been cleaning rubbish /rubble and scrap from in and around the canal to help keep it clean and also help the wildlfe stay safe.
We want the 'gathering' to help make an impact, even if it is a silent one, the way we plan to organise this will make a huge statement as to the sad state of spike island.
We have press and news reporters hopefully in attendance to record out gathering and help spread the word about saving 'Our Spike Island /Sankey Canal' Join us if you will"
Wildlife is important to everyone, everywhere and we need to do more to help to protect it.